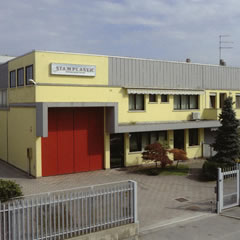 1970 saw the establishment of Stamplastic, a small jobbing shop moulding thermoplastic technical items and fittings for large national companies.
The sound knowledge of plastics and working techniques gained over the years has allowed us to specialize in the production of curtaining articles.

Today we are well known on the home market and are taking our first steps also on the European market in the certainty of being able to offer customers high quality products at competitive prices, while guaranteeing a dedicated service.

We are by now also specialized in the machining of ferrous materials for the accessories on our products. For customers who are interested we provide a back-up and advisory service for making new curtain accessories, with the help of firms that are highly experienced in the making of moulds.

Our aim is to be able to grow by offering customers an even more extensive range of curtaining articles, also relying on the cooperation of our customers, who always keep an eye on a continually evolving market, to create products that will challenge time and fashions.
---
---